BEAUTY RESTORATION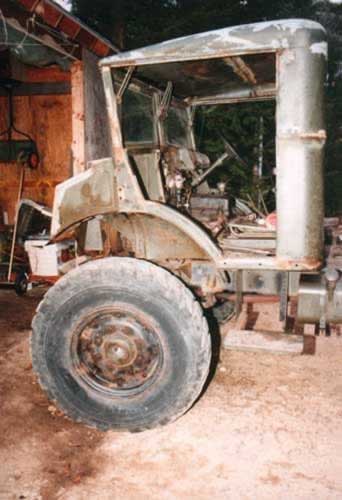 The photos in restoration pages are just a samplingof the many photos I took before and during the process. To any of you who have not done a major restoration of this type it might seem like over kill but those who have done, one of a kind, major restorations know how useful pictures are when it comes time to reassemble the thing later. Simple things such as how wires, fuel lines and brake lines are routed become obvious with photo in hand. This even carries over to which way the wire or line clips go up or down.
While I had done a running restoration on BEAST in short doing it a little at a time between events while in general keeping the truck drivable. BEAUTY's restoration was a down to the frame effort with the entire truck being dissembled cleaned repaired and reassembled.
Though I had been able to start BEAUTY to load it once the temperature went above freezing it started and ran smoothly so ice in the carburetor was the likely cause for being unable to start it to load it. With the engine running it was quickly confirmed that the engine ran smoothly but the radiator was filled with a mixture of antifreeze and acorns.
The brakes were completely inoperable so with only one very short drive along my driveway the process of disassembly began. All of the wheel cylinders were stuck and one of the pivot arms on the power brake linkage was completely seized. The brake shoes were almost new and with a little bit of cleaning are still in service.
Actually the disassembly process went very fast so armed with an air-ratchet a bunch of luncheon bags and a magic marker I started reducing the truck to a pile of parts which filled one bay of my garage. Compared with modern vehicles it was surprising how few bolts broke off in the disassembly process. One trick is to vibrate the bolt heads with an air chisel before trying to turn them.
On to Engine Page