When a friend suggested I take a look at M35 drop side cargo body the length was right for the Pattern 12 C60L 158 inch wheelbase. But the width was 10 inches to wide to fit the truck without looking wrong.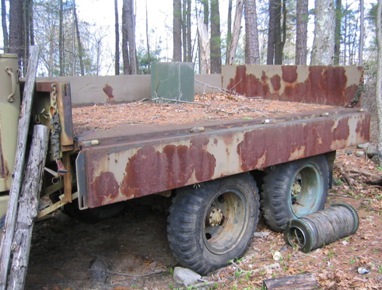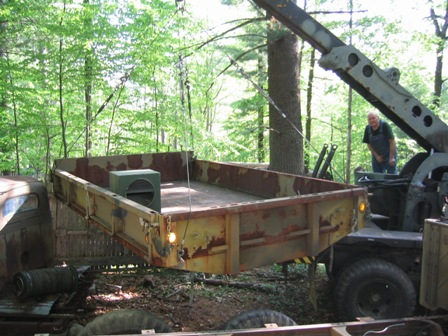 The solution was get out the plasma cutter and slice 10 inches out of the center of the truck. Once the deck was cut along its entire length. The body had to be flipped over this was done with the shop jib boom and chain fall to lift one side up and swing the body over then lower it again. Once this was done the using the Plasma Cutter to continue and cut each of the frame ribs once the entire body had been cut through the section was removed and the two sections were slid together and aligned. Once the frame ribs were all aligned and the deck was aligned the Mig Welder was used to weld the ribs. The original frame rails were now 10" to narrow to fit the frame of the Patter 12. So the frame rails then had to be cut free and moved out to match the Pattern 12's frame rails.
Once ribs were weld back together then the process of flipping was repeated, the edges of the deck were aligned and weld.