Owner Philip Waterman Temple, New Hampshire
Merrimack Valley Military Vehicle Collectors Club
This truck is a 3 Ton CMP (Canadian Military Pattern) radio truck built by General Motors of Canada built in 1942. These trucks were built to British Army standards which account for the right hand drive. CMPs were used by all branches of service in all of the British Commonwealth Forces. It should be noted that these trucks are rated as 3 long ton (Imperial or 2240 lbs.) 6720 gross carrying capacity as compared with 5000 lbs. carrying capacity of the US Deuce and Half.
Three ton CMP trucks were built both by Ford and GM of Canada, in 134 and 158 inch wheel base and formed the backbone of Commonwealth Military transport. They were built in a wide variety of in all body types including general cargo and special purpose trucks, over 400,000 CMPs were built. In examining the Canadian war production it should be remembered that Canada's total population in the early 1940's was 11 million people. During WWII Canada produced a total of 858,000 military vehicles providing large numbers of vehicles to the British Army, other Commonwealth Countries and to the Soviet Union.

History of this truck- built at the Oshawa Plant of General Motors in 1942. It apparently was shipped to England where it served as a radio truck. At some point in its life it was prepared for deep water fording, this is known because large amounts of waterproofing compound was found on the engine. This would have allowed the truck to operate for short periods in water up over the wheels. The trucks service record during the war is unknown.
In 1946 it and many other vehicles were transferred to the French army at the beginning of NATO. Stenciled on the doors was:

NORTH ATLANTIC TREATY ORGANIZATION

TO THE FRENCH ARMY

FROM THE CANADIAN ARMY
This led to an apparent long period of storage due to the right hand drive the French Army rapidly made the transition to all left hand drive and thus used American vehicles. This was reinforced in the early-mid 50s when NATO made the administrative decision, for safety reason, to only use left hand drive vehicles on the Continent to comply with driving standards. This truck apparently was one of a group of radio trucks that were stored, undercover, outside of Paris as reserve vehicles until the early 80s, when they were sold at auction.
The this truck's radio body was remove prior to the auction. A member of the Military Collectors Vehicle Club, John Mantion of Connecticut bought the truck as a cab and chassis and had it shipped to his home. I bought it from him in January of 1990. Though the truck only had 6440 miles on the odometer at the time, it has undergone a complete restoration since then. The trucks use as a radio truck was the cause of the low mileage, the mechanical condition of the truck during restoration showed very little wear. The use of the truck as a radio truck is also deduced by the large number of grounding straps which literally connect all components of the truck together. In December of 1991 an appropriate Radio Box Body was found. The radio box is actually a S-56 Shelter Unit built in 1946 developed during WWII to slide into the back of Deuce and Half Cargo Truck. But is similar in size and shape to radio bodies originally fitted to the CMPs.
I had always been bothered by having and American body until Keith Webb posted several pictures of these bodies mounted on Australian Army CMPs with these bodies.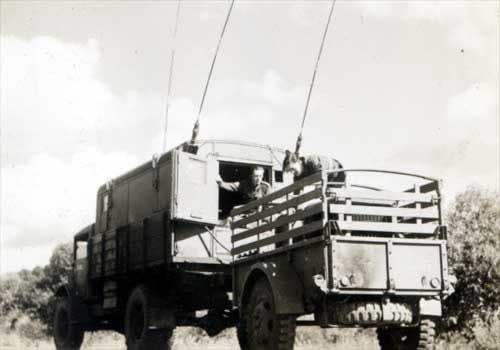 The light sand color was selected to reduce the inside temperature to make the truck more comfortable to drive. The light sand color is correct for vehicles that would have served with British Forces in North Africa. These 3-ton CMPs, primarily in the cargo body version, made up a large portion of transport used by the Australian, British, Canadian, Indian, and South African units in their battles back and forth across North Africa.
BACK TO HOME PAGE