Hunting for & THE

If you already have BEAUTY and BEAST then you need & THE
It all started with a Christmas Card from a friend in the next town who collects Military Vehicles and is a long time member of our MV Club. Don also happens to have served in both the British and American Armies in the motor pool most of his working life. Born in England he did his national service in the British Army in the Middle East I think. He then emigrated to the United States and and worked for a good many years maintaining US Army vehicles. His hobby is restoring military vehicles. You will note his card below is stamped with a Studebaker, which he has several. Well Don was kind enough to share a letter and photos from a friend of his in Maine who is an antique truck and heavy equipment collector. Thus starts the search for a Canadian Military Vehicle. On January 21, 2002 during a snow storm we haul the Pattern 12 home.
December 2001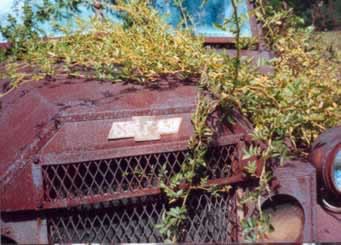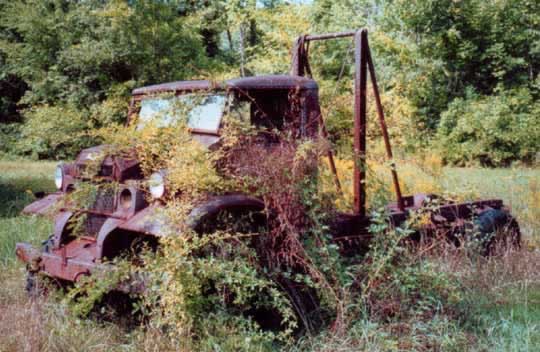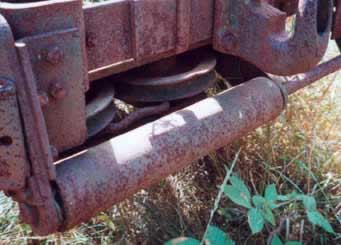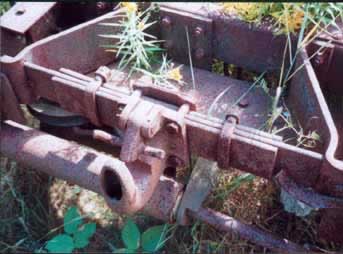 These are the pictures enclosed with the, letter below, as you can see it was written a few months before. As you will note in the letter the term 4x4 is used, but also it says the rear axles were single tired and dual drive. Hence my confusion as to it being a 4x4 or a 6x6. With the thorny vines and wasps that were encountered we know how difficult it can be to check details.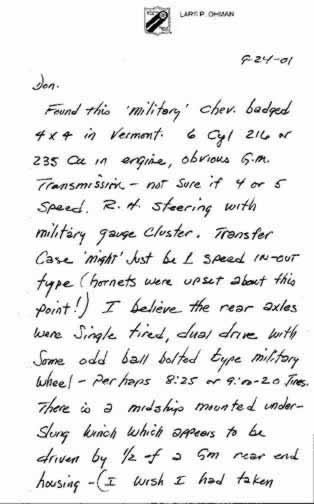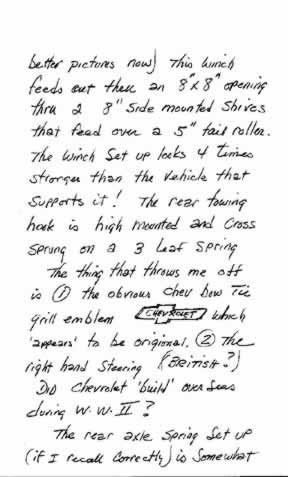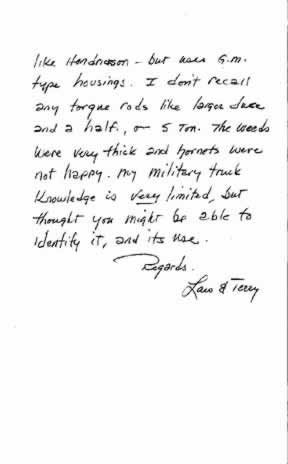 Well the Christmas Card came just before Christmas the letter which I followed up with a call to my friend who provided the the phone number of author of the letter. Who I called just before New Years to get his answering machine which responds "We can't take your call right now we're either out in, under or looking at another old truck, leave your message and we'll get back to you." So I left a message which I followed up with a letter about CMPs and some pictures answering his various questions from the letter.
In the tradition of truck collectors this letter and call was quickly responded to once they got home from a holiday trip. Several minutes of truck pleasantries were followed with the name of another friend in hobby who knew the exact location of the truck.
So far the search for the truck has lead through three people and three different States.
January 5, 2002
Armed now with very good location description and a prediction of snow in the next few days I head for Vermont and a destination 80 miles away. Once on the road where the truck is located I realize that I have driven the same route several times in the last couple of years.
With good directions and excellent land marks I found the truck with no difficulty. The truck is even visible from the road, but of course no one was home. Not wanting to just go wondering around taking pictures I wrote a note and left it the door of the house.
Then proceeded to take the following pictures. The truck was in fact was a Pattern 12 well used and tired but not beyond restoration. It however was not a 6x6 rather it was a 158 inch wheelbase Pattern 12 CMP sitting on original 10:50x16 Canadian chevron tires and wheels.